From the desk of Managing Director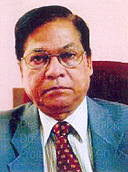 A. P. C. System & Products Private Limited was established as a proprietorship company in 1985. The company became Private Limited in the year 1988. I have brought an enriched work experience in the field of air pollution control systems having undergone training and worked as a practicing professional in countries like Germany, England, Switzerland and USA during the early part of my career.
From the very inception, our motto was- "Continuation of business relation with our clients through satisfactory execution of the job". Today, we can proudly claim that our Performance has justified our motto having continuously worked with select clientele for more than two decades.
During the years of our operation, we have executed a number of turnkey projects covering the industries like Steel, Thermal Power, Coal, Iron Ore, Limestone and others in both public and private sectors. We have also successfully executed an export contract for design engineering & supply of Fume Extraction system for ESSAR STEEL in Indonesia.
We maintain a rich manpower infrastructure of qualified and experienced engineers who have sufficient exposure and enriched knowledge to cater the Engineering Services. We have state of the art, in house designing facilities. Our extensive CAD drafting facilities allow us to custom design a system to meet the client's individual plant requirement. We have experienced set of personnel for both contract execution and erection activities at site. Our senior engineers have sufficient exposure and knowledge to perform the performance guarantee tests at site to the client's satisfaction. To ensure that our high standards are maintained, we have set up our quality system to conform to ISO 9001:2000 since 2001. Our quality management system has been upgraded to ISO 9001:2015 from 2019.
With continuous improvement in technology coupled with dedication and hard work, we aspire to become India's leading turnkey project execution company in the defined fields of Ventilation, Dust Extraction, Dust Suppression and Fire Fighting Systems.
Manoranjan Giri
(Managing Director)